Health and Poisonous Food
Food Origins and Form [FOOD1010]
Introductory Science for Food and Nutrition Students [FOOD1027]
Key Skills in Food and Nutritional Sciences [FOOD1145]
Introductory Microbiology [MICR1125]
Principles of Physiology and Nutrition [FOOD1150]
Discovery Module - Elective / Molecules Controlling Sensory and Nutritional Properties [FOOD2031]
Microbiological and Chemical Food Safety [FOOD2135]
Food Analysis [FOOD2140] Food Quality and New Product Development [FOOD2190]
Year 2A BSc Nutrition
Nutritional Issues in the Life Cycle [FOOD2201]
Energy Metabolism and Obesity [FOOD2300]
Literature Review in Nutrition and Health [FOOD2171]
Discovery Module - Elective Industrial placement module - programs
Food Product Design and Innovation [FOOD3370]
Research Project [FOOD3050]
Year 2B BSc Food Science
How Ingredients Interact in Foods [FOOD3041]
Food Research [FOOD3130]
Food Processing [FOOD3010]
Discovery Module - Elective
Final Year A BSc Food Science and Nutrition
Functional Foods [FOOD3330]
Food and Cancer [FOOD3340]
Food Processing [FOOD3010]
Advances in Nutrition, Diet and Health [FOOD3070]
Discovery Module - Elective
Final Year B BSc Nutrition
Nutrition Policy and Public Health [FOOD3381]
Personalized Nutrition [FOOD3000]
Advances in Nutrition, Diet and Health [FOOD3070]
Discovery Module - Elective
Human beings are not carnivorous animals; not like lions or wolves or the cat who is curled up on your couch.
Your cat can eat animal protein because her stomach produces 20 times as much hydrochloric acid as yours does. Most of her digestion takes place in her stomach, whereas most of your digestion takes place in your intestinal tract.
That acid-bath in her stomach is so powerful that it can break down not only animal protein, but also bones and ligaments. Your cat can eat the whole mouse, because her stomach can digest its entire body. No parasites can survive the immersion in a carnivorous animal's stomach.
Your cat's intestinal tract is about 3 times as long as her body. That's true for all carnivorous animals. The food is almost completely digested in her stomach, and the remainder, the poop, is sent out of her body very quickly.
Whereas you and I have intestinal tracts that are 32 feet long. Look down at your lower abdomen, and picture a long garden hose, folded and refolded in perfect order. If I'm in good health, my long intestine is about the same diameter in width as my big toe. But someone who isn't healthy can have 32 feet of intestines that are anywhere from 3 to 10 inches in diameter. You don't have to imagine what someone would look like with 32 ft of intestines inside them that were 8 inches in diameter. You just need to look around you at your fellow Americans; tens of millions of people who are obese beyond comprehension.
So our stomachs are not able to completely digest animal protein. Chunks of undigested meat, therefore, pass into your long intestinal tract. And with that undigested meat, goes all the parasites and flukes that our stomach-acids were not strong enough to kill.
Your cat will quickly expel any undigested foods. But in humans, that putrefied and decaying meat may stay inside you for anywhere from 20 to 48 hours. And if you're not healthy, it can take much longer. Credit to the Auther: According to Andreas Moritz THE KEY TO HEALTH AND REJUVENATION
Mushrooms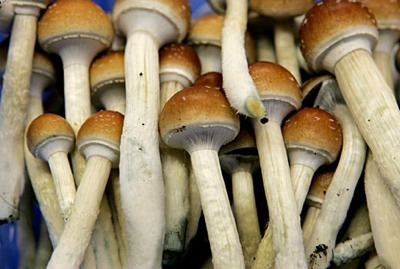 We have all heard of toadstools – and know that they are poisonous, but what many people don't know is that a toadstool is actually a mushroom, not a separate type of plant. Toadstool is slang for "poisonous mushroom". While there are some useful signs that a mushroom is poisonous, they are not consistent and all mushrooms of unknown origin should be considered dangerous to eat. Some of the things you can look for to try to determine whether a mushroom is poisonous are: it should have a flat cap with no bumps, it should have pink or black gills (poisonous mushrooms often have white gills), and the gills should stay attached to the cap (not the stalk) if you pull it off. But remember, while this is generally true of many types of mushroom, it is not always true.
Potatoes
Potatoes have appeared in our history books since their introduction to Europe in the 16th century. Unfortunately they appear largely due to crop failure and severe famine, but they will be forever the central vegetable of most western families daily diet. Potatoes (like tomatoes) contain poison in the stems and leaves – and even in the potato itself if left to turn green (the green is due to a high concentration of the glycoalkaloid poison). Potato poisoning is rare, but it does happen from time to time. Death normally comes after a period of weakness and confusion, followed by a coma. The majority of cases of death by potato in the last fifty years in the USA have been the result of eating green potatoes or drinking potato leaf tea.